Add your thoughts here… (optional)
CNN Belief Blog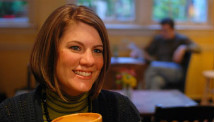 Editor's Note: Rachel Held Evans is a popular blogger from Dayton, Tennessee, and author of "A Year of Biblical Womanhood."
By Rachel Held Evans, Special to CNN
On "The Daily Show" recently, Jon Stewart grilled Mike Huckabee about a TV ad in which Huckabee urged voters to support "biblical values" at the voting box.
When Huckabee said that he supported the "biblical model of marriage," Stewart shot back that "the biblical model of marriage is polygamy."
And there's a big problem, Stewart went on, with reducing "biblical values" to one or two social issues such as abortion and gay marriage, while ignoring issues such as poverty and immigration reform.
It may come as some surprise that as an evangelical Christian, I cheered Stewart on from my living room couch.
View original post 957 more words